Living in Malta with our 300 days of sunshine means that we get to enjoy beautiful sunny weather for most of the year, even in the comfort of our own home, be it through rooftop barbecues or al fresco poolside lunches.
On the other hand, spending hours in direct sunlight may not be so appealing, especially on those hot summer days. Having an efficient shading system is important to consider if you would like to enjoy your outdoor space regularly. Proper shading ensures that you and your loved ones are protected from the strong sun rays so that you can make use of your outdoor area even on those hot days.
We have put together some tips to help you choose the ideal outdoor shading solution for your space:
1. What type of shading solution should I opt for?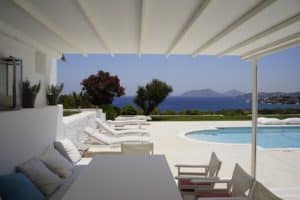 Pergola
Pergolas are a great solution for those looking for a more permanent fixture that does not need any manual input once installed. The Pergola works as an open roof system offering a versatile option that complements a variety of architectural styles and aesthetics. Apart from being versatile, they offer different price options to suit any budget, making them a firm favourite with many.
Awnings
Awnings can be attached directly to the property, providing a simple shading solution for your outdoor area. The most popular type of awning is the convenient motorized retractable system. There are also less costly manual awnings. Either option can be supplied in a variety of different fabrics, with a range of wind sensor accessories that can be added on. Retractable awnings can be set to provide full coverage, or just partial coverage to allow sunshine through.
Awnings are popular because they are one of the more cost-effective options on the market. They can be used for covering large areas without having to install an entire structure and can also be moved according to the weather conditions making them versatile and convenient.
Once you've chosen which home shading solution is ideal for you, there are some other factors to consider.
2. Origin of Products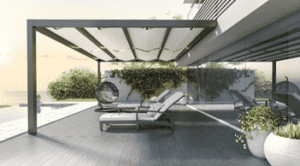 In Malta, you can purchase outdoor shading solutions that originate from different countries. It must be noted that there is a difference in the price which is also reflected in the quality. It is recommended to look for outdoor shading solutions that are European-made products (CE) and that originate from European markets. European products guarantee top quality material, strong installation, and long-lasting functionality.
3. Material
Different materials require different levels of maintenance. The most popular choices for pergolas are outdoor fabric or aluminium. Outdoor fabric is available in several colours offering more choice when it comes to style however fabric does require more frequent maintenance when compared to aluminium. Aluminium, on the other hand, may be limited in aesthetic choices, however is the more durable option.
4. Quality
While you want your outdoor shading solution to look good, you also want it to be practical, useful and long-lasting. This needs to be considered as an investment for the property so, in the long-term, it makes financial sense to choose a good quality product, even if it may cost more than other more inferior options. To choose good quality fabrics, look out for the following elements: waterproof, easy to clean, protective from UV rays, and highly resistant to the sun. For awnings, the most effective metal framing is usually made from aluminium as it is lightweight, strong, and doesn't rust. It's always recommended that you look for a seal of approval from a reputable company that will signal a good quality awning.
5. Wind Load
Let your supplier know the weather conditions around your house, especially in terms of wind so that they can guide you and recommend the best solution for your needs. Not all properties experience the same amounts of wind, so some places might require a more robust outdoor solution than others. Opt for a wind load certified product for peace of mind and ensure to check how much wind load your outdoor shading takes.
6. Determine the size, style and colour of your preferred outdoor shading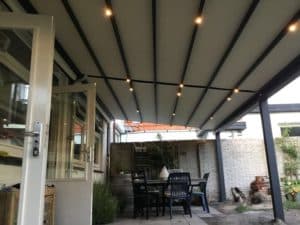 Your outdoor shading system is going to be a permanent structure in your house so ensure that you like what it looks like in terms of aesthetics. Prepare for this by measuring the size of the area where the outdoor shading will be installed so that you choose the right solution for the space available. If you opt for a retractable awning, check whether having a remote-controlled mechanism is a necessity rather than a choice, as not all awnings might work well with a manual system especially when they are very wide. It's always recommended that you choose the solution that works best in the long-term, even if it is a slightly higher investment, as you'll end up having to change it anyway in the future which could end up costing more.
7. Warranties and Guarantees
This is a long-term investment that you'll be making so always check what warranties and guarantees are provided when purchasing your outdoor shading solution. Choose a respectable company that will offer you a guarantee and purchase protection should anything go wrong, as well as a good aftersales service.
8. Permits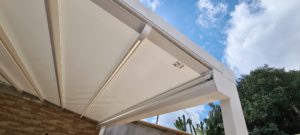 When installing a new shading structure in your outdoor space it is important to check about necessary permits needed; for example, a pergola structure should be regulated with a MEPA permit. When you choose a reputable supplier, you can rest assured that they will guide you on all the permits necessary when choosing your outdoor shading solution.
---
Choosing the ideal outdoor shading system for your home can be daunting and overwhelming especially if it is the first time you are shopping around for these products. It is an investment that will have an impact on the quality of your life in terms of enjoying your outdoor space in the comfort of your own home. If you take the above factors into consideration we are confident you will choose an outdoor shading solution that you will enjoy and revel in.
If you would like a personalized guide on finding your ideal shading solution, our experienced team can help. We can show you the different options available for your space so you can make an educated choice on your preferred choice.
Contact us on sales@adoremore.eu or +356 2145 6570 / 2145 6560 or click here to set up an appointment.